There are many conversion rate optimization (CRO) tools available online nowadays. Almost all of these tools are paid, but you can use their free features to understand which suits your business and is reliable enough. If you think, you can purchase the premium afterward. So yeah, just try it before you buy it.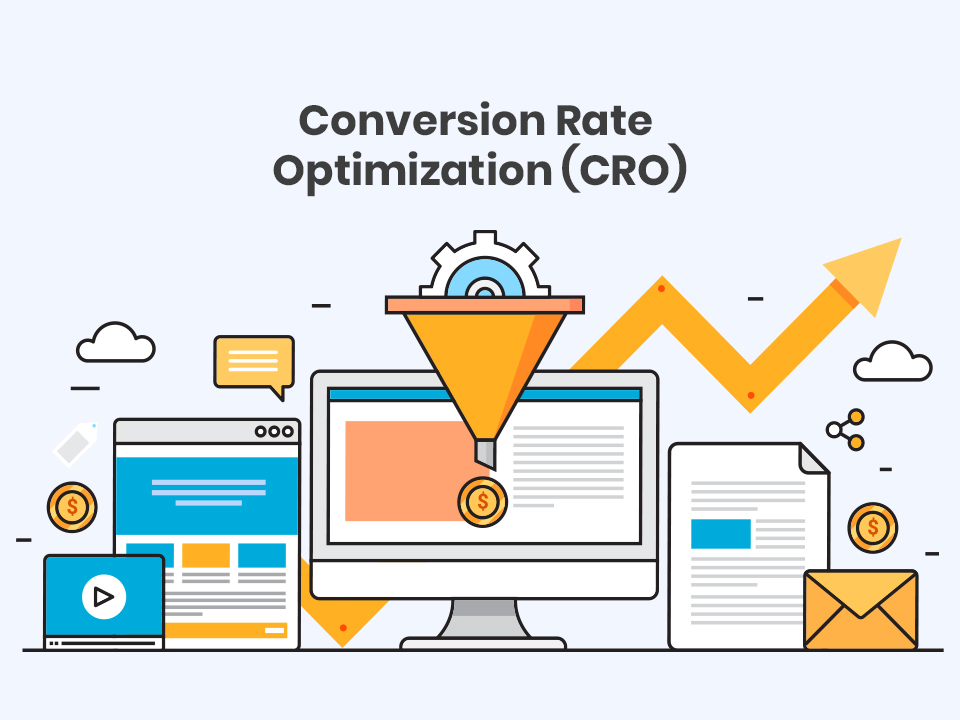 Before we list down the CRO tools, let's just understand why you need CRO tools for your business.
What is CRO?
Conversion rate optimization (CRO) is the percentage of website visitors who take valuable action on your website or landing page. A valuable action is simply buying a product, taking service, or filling a form. CRO activities improve the content across different channels (website, social media, etc.) and improve your conversions.
CRO tools are beneficial because they provide a wide range of features to improve conversion rates quickly. Some of them are listed below:
· Page optimization
· Page speed data access
· Analyzing user behavior
· Heatmapping
· Landing page building
· AI Chat capabilities
· Split testing
· Survey form building
Some of the tools offer all the features, while others focus on certain areas of conversion rate optimization.
Why does your business need a CRO tool?
Is it useful if visitors are coming to your site but not converting? Digital marketing strategies are helpful, but what if they too cannot convert prospects into customers?
In that case, you need a CRO tool to monitor user behavior, access the site data, and improve the user experience with a mix of activities, including content update, change in UI, easy checkout form FAQs, and many more. Most importantly, CRO tools can help you understand why visitors abandon the shopping cart, why the bounce rate is high, the problem in the landing page, why checkout isn't smooth, etc.
List of 5 Free CRO Tools
We are providing you with a list of 5 free CRO tools, which have a combination of different features you may require for your business. Take a look!
1. Hotjar
One of the popular conversion rate optimization tools available in the market. This tool helps analyze the user behavior and provides feedback in the form of session recordings, heatmaps, and survey forms.
It is beneficial to understand the users on your website, dig in deep, and pinpoint the improvement areas on the website or landing page.
Advantages:
· Hotjar helps you in identifying the stages of the funnel where you are losing your potential prospects.
· This tool offers an in-depth study of your users where they click, scroll, tap and linger. Many site owners benefit from this tool as it's combined with Google Analytics.
· Hotjar depicts the site interactions in a graphical representation, which we call heatmaps. The data is represented in a graphical form using different colors to describe users' interactions on the website.
· To improve conversion funnels, Hotjar also provides session recordings of feedback and site analysis.
2. SurveySparrow
SurveySparrow, as the name suggests, is a survey platform, which allows businesses to collect data in the form of answers and opinions and transform it into actionable data.
It is useful for the brands to boot their conversion rates as it provides quality feedback of the site as well as user behavior.
Advantages:
· You can conduct multilingual feedback across the world. You can use any language in survey forms to collect feedback from the users, and thereby, it will help implement the same.
· You can gain top insights from SurveySparrow that you must be looking for and boost your conversions.
· Your team members can also use this tool under a single-parent account. It means you can manage different accounts under one account on SurveySparrow.
3. MobileMonkey
It is a messenger marketing platform, which helps brands connect with potential prospects through chatbots. MobileMonkey tool then nurtures them throughout their chat and converts them. It is one of the most widely used CRO tools. Around 1.3 billion people are currently using MobileMonkey to improve conversions.
Advantages:
· Messenger-based chatbot to deliver 24*7 services to your customers. Fast, easy, and reliable.
· No coding is required to set up your account on MobileMonkey. It's an AI-based tool and a perfect platform for startups and small businesses to boost their conversions.
· For expanding your social media reach, this tool is again helpful.
· You can use the chat automation feature in MobileMoneky for several other benefits and even build a conversion funnel easily.
4. CrazyEgg
CrazyEgg is another popular CRO tool for website optimization and monitoring user behavior. There are different other appealing features of CrazyEgg, i.e., design testing, CRM, A/B Split testing, and scroll maps.
Advantages:
· With this tool, you can gain insights about your customers, including where they have landed, which product/service they clicked on, bounce rate reasons, and how to improve.
· CrazyEgg helps understand your users better. You can even check which parts of your website are performing great and leading massive results.
· CrazyEgg doesn't provide reports. Alternatively, you can view in your analytics which parts of the site are performing well and which are not with the help of an interactive UI.
5. GTMetrix
GTMetrix is a great CRO tool that helps analyze the performance and speed of your website or landing page and requires improvements to boost conversions. If you are a WordPress user, it's a free plugin to optimize your website and page speed.
Advantages:
· You can check why your website or landing page is slow. Thus, you can make amendments accordingly.
· GTMetrix is beneficial in advanced testing your website at different connection speeds, browsers, and various countries. You'll also get a score based on Google PageSpeed Insights.
·        GTMetrix allows you to see how your website or landing page loads on different devices. For CRO, the speed factor is extremely vital, and GTMetrix is definitely worth using.